A2 Hosting is one of the most awarded winning web hosting founded 2001 under the name Iniquinet by Bryan Muthig however it was in renamed 2003 it was renamed, as A2 hosting services. It got its name from a small town named Ann Arbor, a town in Michigan.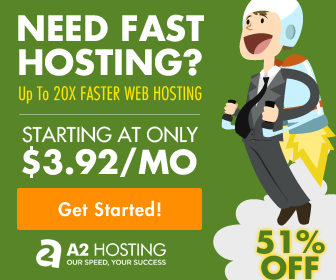 In the start, it focused on providing services to a smaller group of, but rather it quickly expanded its business by becoming a top web hosting  service provider in the world.
It is known for providing clients with fast server speeds this is due to the quick and advanced SSD servers. And it is to be noted that webhosting plans even with the most basic shared hosting plan, even gets a Turbo Server, since can help in quick server website loading speeds
The customer support team is called as "Guru Crew" which is known as the best in the business and customers satisfaction is known to be the best in the business. 
A2 hosting has long history of providing hosting services not only to small business but also corporate business models. This gives an idea that it is trusted by the major companies around the globe 
What Are the Products Offers by A2? 
A2 hosting is one of the best web hosting services in the market and it offers important services such as domain registration, SSL certificates, domain transfer apart from hosting services. While there is a wide range of products in web hosting services such as dedicated hosting, VPS hosting, shared hosting and reseller hosting services. 
It is reported that A2 provides various features on every plan when purchased. Few of the common features by them are.
20X Faster Turbo Option

99.9 % Uptime Commitment 

24/7 Phone, Live Chat & Email Support

Easy cPanel Client Control Panel

Free Billing Software 

WHM Control

Free SSL Certificates

Free Domain Name

Server Locations Options 

SSD Optimized Hardware 

Money Back Guarantee 
These are some of the best features that a2 domain promises you to provide, however, it is to be noted that some of the features might not be available in all the hosting services since the prices are different for various plans. 
One of the common a2 web hosting is the shared hosting and the prices starts from 8.9 $ to 20.9$ per month.  If you have a small business, then you can go for the shared hosting. And if you have a mid-sized business then you can go for managed WordPress hosting plan. The managed plan starts at 28.51 $ per month. 
If you have clients and they require web hosting services, then you can purchase reseller program without promoting the A2 program. 
Web Hosting Products Offered by A2
Shared Hosting:
If you want to host your website or your blog, then you can opt for shared hosting services. Shared hosting is a good option for beginning since it is comes bundled with also supplied WordPress and other services such as Joomla. 
<Click Here to grab A2 Hosting Offers 2020>
Reseller Hosting:
Reseller hosting is quite a good option for if you want to start you own hosting services providers. Therefore, A2 provides a great facility and you don't have to promote A2 in this case. It has WHM support and easy bill desk for more secure transaction. 
 VPS hosting:
 If you want a secured hosting which is also secured then you can go for VPS hosting. Shared hosting is not safe for many reasons therefore you can go with VPS hosting services. It is suited for medium to large sized business. 
Dedicated Hosting
Dedicated Hosting is best for big business and more exclusive sites. Dedicated hosting offers security, speed and better management.   
Last Words:
A2 Webhosting is one of the renown web hosting services till date as it can boost up to 20X fast SSD. It promises to deliver an uptime of more than 99.9 percent while the loading speeds is found to be under 1.9 seconds.